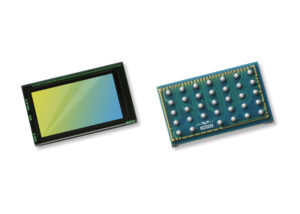 OmniVision Technologies, Inc announced from the Security China Show in Beijing its latest 2-micron image sensor family members built with OmniBSI pixel technology, the OS02F10 and OS04B10. The two sensors provide the industry's most cost-effective backside illumination (BSI) solutions and are designed for capturing high definition (HD) images in entry-level IoT, industrial, commercial, and residential security and surveillance cameras.
The OS02F10 and OS04B10, with superior low-light sensitivity, can produce high-quality digital images and HD video, even in poor lighting conditions. This capability is critical for security applications. Their wide chief ray angle (CRA) of 9 degrees enables thinner modules with wide-aperture lenses for accurate, unobtrusive surveillance.
The OS02F10 is a 2-megapixel (MP) sensor that supports 1080p (1920 x 1080) resolution streaming video at 30 frames per second (fps). This ultra-compact sensor features a 1/4-inch optical format and a 4.9 x 3.0-mm chip scale package (CSP). Its high quantum efficiency (QE) requires less IR illumination, thus enabling low power consumption for excellent camera battery life. The OS02F10 itself consumes less than 120 mW.
The OS04B10 is designed for applications covering larger surveillance areas. With 3.6-MP resolution, the OS04B10 supports 2K (2560 x 1440) resolution streaming video at 30 fps. It features a 1/3-inch optical format and a 6.3 x 3.7-mm CSP. The OS04B10's power consumption is less than 140 mW, and it has high QE for low system power.
The OS02F10 and OS04B10 image sensors are available now, and are being demonstrated at OmniVision's Security China Booth #E1E19 during this week's show in Beijing. For more information or product samples, please contact your OmniVision sales representative at sa…@ovt.com.