There are five standard sizes for PCIe cards and two sizes of mini PCIe. In addition, some larger PCIe slots can accommodate more than one card using a process called bifurcation. This FAQ looks at the five standard sizes and common uses for them. Then turns to mini PCIe and its applications and closes with a glance at how bifurcation works.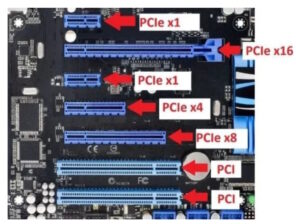 PCIe slots differ in length and speed based on the number of lanes they include. A PCIe lane consists of two wire pairs that link the PCIe-connected device with the processor or chipset on the computer board. A PCIe slot can support from 1 to 16 lanes. Standard PCIe slots include 1, 2, 4, 8, and 16 lanes called PCIe x1, x2, x4, x8, and x16, respectively (Figure 1).
The complete card name includes the PCIe generation and number of slots; for example, PCIe 3.0 x4 is a third-generation card with four lanes, and PCIe 5.0 x16 is a fifth-generation card with 16 lanes. Each new generation of PCIe doubles the bandwidth that each slot configuration can deliver (Table 1).
What are PCIe cards good for?
Examples of PCIe card applications include:
PCIe x1 slot can support wireless cards, including WiFi 6 and 1 Gigabit Ethernet (GbE) connectivity. It also supports port/hub expansion and sound cards.
PCIe x2 can support higher-performance network cards and port/hub expansion cards, plus basic capture cards.
PCIe x4 can support 10 GbE, a single M.2 NVMe SSD expansion card, 4K video capture, high-bandwidth networking, and RAID controllers.
PCIe x8 can be used for simple graphics cards, multi-slot M.2 NVMe SSD expansion cards, and higher bandwidth network cards.
PCIe x16 is used for high-performance graphics cards and server-grade expansion cards for networking and storage.
Mini PCIe
Mini PCIe cards measure 30 mm x 50.95 mm. There are also half mini PCIe cards that measure 30 mm x 26.8 mm. Mini PCIe slots are not generally found on consumer devices. They are used on industrial PCs, automation and automotive systems, and digital signage. For example, a recently introduced half mini PCIe card is designed for use in slave applications in fieldbus and industrial Ethernet. It's rated for operation up to 70 °C without a heat sink (Figure 2).
Bifurcation
PCIe bifurcation lets a single PCIe slot handle multiple cards. It enables the division of data lanes in a PCIe slot. It's not supported on all systems. It can be possible to configure a PCIe x16 slot to handle two PCIe x8 cards, sometimes more small cards, depending on the available software. Bifurcation does not affect the available speed but enables a larger slot to work like multiple smaller slots without an additional PCIe bridge IC.
One example of how bifurcation works is multi-drive NVMe expansion cards. Each drive requires a dedicated PCIe x4 lane. A PCIe x8 slot with an integrated chip can handle splitting the x8 configuration into two x4 lanes, but that adds cost and complexity to the slot. Instead, bifurcation can be used if it's supported, eliminating the need for an additional chip.
Summary
There are five basic PCIe card configurations differentiated by the number of lanes they have from 1 to 16 and are mostly used in computing and communications applications. Mini PCIe cards and half minis are also available for use in a range of industrial, automotive, and other systems. Bifurcation is an optional PCIe feature that can enable a single slot to handle multiple cards.
References
10 Things that can be Plugged in PCIe Slots, PCGuide101
Mini PCI Express halfsize, Hilscher
PCIe Gen 4 vs. Gen 3 Slots, Speeds, Trenton Systems
Types of PCIe slots, CGDirector
Related content
What is PCIe gen 6 and how do I test it? Part 1
What is PCIe gen 6 and how do I test it? Part 2